GeneType featured on U.S. National TV to raise Breast Cancer Awareness
Learn more about Genetic Technologies at www.GENETICTECHinfo.com
MELBOURNE, Australia, May 23, 2023 (GLOBE NEWSWIRE) -- Genetic Technologies Limited (ASX: GTG; NASDAQ: GENE, "Company", "GTG") a global leader in genomics-based tests in health, wellness and serious disease is pleased to announce that the Company's geneType Breast Cancer Risk Assessment Test featured on "The Balancing Act" program, which is broadcast on national television in the United States.
The full segment is now available on our YouTube channel, watch it now: GeneType on the Balancing Act or on The Balancing Act LinkedIn page or their website: thebalancingact.com
Breast cancer risk is more than family history. In the United States 1 in 8 women will develop breast cancer during their lifetime and around 85% of those women will have no family history of the disease. The estimated number of new breast cancer cases in the United States was 287,850 in 2022 1 . More than 45 million screening-age women in the United States qualify for routine breast cancer screening, most of whom don't actually understand their risk or whether they might be eligible for risk-reduction from supplemental surveillance 2 .
GeneType for Breast Cancer provides a comprehensive risk prediction score based on a woman's personal clinical and genetic factors from a simple saliva sample, enabling women to take a proactive and preventive approach to their health.
In the segment Dr. Carolynn Young and Dr. Joel Evans discuss factors that influence breast cancer risk and the clinical utility of geneType for Breast Cancer. Dr. Carolynn Young promotes our geneType test for Breast Cancer as a great tool for women wanting to know and reduce their risk of developing breast cancer.
"I really feel like this is taking a giant step forward in helping us understand our individual risk and what we can do to change that." says Dr. Young.
Dr. Evans commented that he believes "the best way to look at breast cancer risk is through the geneType collection kit." GeneType for Breast Cancer integrates over 300 genetic markers for breast cancer as well as clinical and familial factors to give a comprehensive and individualized risk prediction score.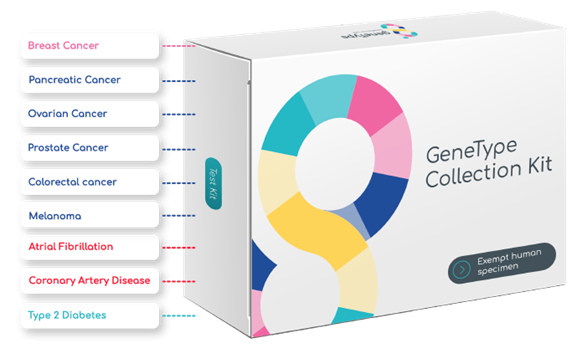 Find out your underlying genetic risk of developing breast cancer with geneType - so that you and your doctor can have proactive discussions about your health, which could include adapting your screening intervals and types, and making lifestyle modifications to reduce your risk of breast cancer.
Learn more about geneType for Breast Cancer at GeneType Breast Cancer Test USA
The test is now commercially available with further information available from GeneType.com .
About Genetic Technologies Limited
Genetic Technologies Limited (ASX: GTG; Nasdaq: GENE) is a diversified molecular diagnostics company. A global leader in genomics-based tests in health, wellness and serious disease through its geneType and EasyDNA brands. GTG offers cancer predictive testing and assessment tools to help physicians to improve health outcomes for people around the world. The company has a proprietary risk stratification platform that has been developed over the past decade and integrates clinical and genetic risk to deliver actionable outcomes to physicians and individuals. Leading the world in risk prediction in oncology, cardiovascular and metabolic diseases, Genetic Technologies continues to develop risk assessment products. For more information, please visit www.genetype.com
Forward Looking Statements
This announcement may contain forward-looking statements about the Company's expectations, beliefs or intentions regarding, among other things, statements regarding the expected use of proceeds. In addition, from time to time, the Company or its representatives have made or may make forward-looking statements, orally or in writing. Forward-looking statements can be identified by the use of forward-looking words such as "believe," "expect," "intend," "plan," "may," "should" or "anticipate" or their negatives or other variations of these words or other comparable words or by the fact that these statements do not relate strictly to historical or current matters. These forward-looking statements may be included in, but are not limited to, various filings made by the Company with the U.S. Securities and Exchange Commission, press releases or oral statements made by or with the approval of one of the Company's authorized executive officers. Forward-looking statements relate to anticipated or expected events, activities, trends or results as of the date they are made. As forward-looking statements relate to matters that have not yet occurred, these statements are inherently subject to risks and uncertainties that could cause the Company's actual results to differ materially from any future results expressed or implied by the forward-looking statements. Many factors could cause the Company's actual activities or results to differ materially from the activities and results anticipated in such forward-looking statements as detailed in the Company's filings with the Securities and Exchange Commission and in its periodic filings with the ASX in Australia and the risks and risk factors included therein. In addition, the Company operates in an industry sector where securities values are highly volatile and may be influenced by economic and other factors beyond its control. The Company does not undertake any obligation to publicly update these forward-looking statements, whether as a result of new information, future events or otherwise, except as required by law.
__________________________________________________________________________
1 American Cancer Society Cancer Facts & Figures 2022
2 www.infoplease.com/us/census/demographic-statistics
Photos accompanying this announcement are available at
https://www.globenewswire.com/NewsRoom/AttachmentNg/7b95a408-f70b-4dd4-be73-550d506c8abe
https://www.globenewswire.com/NewsRoom/AttachmentNg/245c95c1-9f05-496a-b6f1-2427080f8d85
Investor Relations
Adrian Mulcahy
Automic Markets
M: +61 438 630 411
E: adrian.mulcahy@automicgroup.com.au